Keep real dairy
on your holiday table
Find the perfect dishes for the holiday season in our recipe collection.
See Our Recipes >
Dairy farmers use modern technology to provide excellent care for their cows and calves. Learn about technology that might be on a dairy farm in your area!
The perfect seasonal side dish for your holiday dinner.
The Daugherty family, in Coshocton, Ohio, is proud of their generational legacy.
Make the most intimate gatherings extraordinary with Ohio-made cheese.
A simple, family-friendly take on a classic dish, featuring Swiss cheese!
We're the

American Dairy Association

Mideast

Your source for all things dairy from farm to fridge!

We work on behalf of Ohio and West Virginia dairy farmers to share their stories, bring you science-based information and feature delicious dairy recipes.
Greatness is built with chocolate milk and helps student athletes power their potential.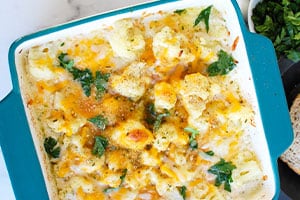 Roasted cauliflower mixed with cheese and baked until soft and bubbling.
Answers to questions about dairy nutrition, lactose intolerance, flavored milk and milk safety.
Follow Us on Instagram
@ada_mideast