Explore
Ohio Cheese
Discover all that Ohio cheesemakers have to offer and find a cheesemaker near you.
Learn More >
This healthy, filling and savory toast featuring sliced avocado, fresh tomatoes, and hot honey can be assembled in 10 minutes or less!
Caring for the environment is a top priority for dairy farmers.
Ground turkey and veggies baked in cheese until warm and bubbly.
Use this handy guide to pair easy-to-find cheeses with the perfect wine.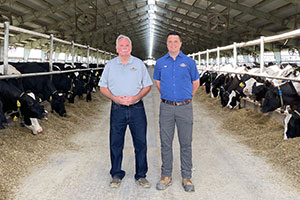 The Imboden family works with experienced employees to keep their cows healthy and comfortable.
We're the

American Dairy Association

Mideast

Your source for all things dairy from farm to fridge!

We work on behalf of Ohio and West Virginia dairy farmers to share their stories, bring you science-based information and feature delicious dairy recipes.
Follow Us on Instagram
@ada_mideast